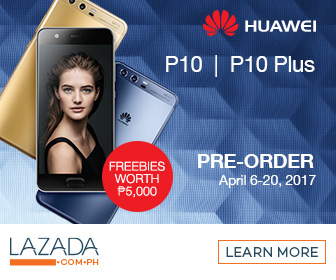 A few months back, if you asked me what I thought of Huawei smartphones, my answer would be "great hardware, poor software." However, after using the Huawei Mate 9, I'm happy to say that the software is now polished enough to let the hardware underneath shine through. Which is why I was actually looking forward to trying out the Huawei P10. As Huawei's first new flagship device for2017, the P10 will be going head to head with Samsung and LG's latest devices. So, let's take a closer look at the HuaweiP10, and see whether it's up to the task.
Huawei's hardware design has always been really good, and the P10 is no different. It's an understated but handsome looking phone. The red power button is just like a little cherry on top. The design looks a little bit boring on this black version, but there is a green and blue version with a hyper diamond-cut finish which looks really stunning in videos I've seen. Sadly in Singapore we only have the black and gold version for now.
On the front, there is a 5.1-inch Full HDLCD display, with nice saturated colours, relatively deep blacks, and good outdoor visibility. I found the display to be a bit cool for my liking, but it's something that can be adjusted. It may not be the best display I've seen,but it's definitely well above average. Some reviewers mentioned that the glass itself is quite prone to smudges since it doesn't have an oleophobic coating.
So I would recommend leaving the preinstalled screen protector on. Unlike a lot of recent Huawei devices, the fingerprint sensor is now below the screen, and it is amazingly quick at unlocking the phone. The fingerprint sensor also works as navigation buttons. A short tap to go back, a long tap to go home,and a swipe to get to recent apps. It saves me a few rows of pixels on screen,but I don't think it's any more convenient than the standard navigation buttons.
Especially when it's way easier to do split screen or switch apps with the on screen buttons. The Huawei P10 uses Huawei's in-house Kirin960 chipset with 4GB of RAM, and the Mali G71 GPU. The reason I mention this, is because while this is the same package found in the Huawei Mate 9 released late last year, this is the same series of GPU that the Exynos variant of the Samsung Galaxy S8 will be using. So while the CPU is not that new anymore,it's still going to perform like a beast. Playing graphically intensive games like Marvel's Future Fight at the highest settings, the P10 is probably the smoothest I've seen the game run on an Android phone to date.
When you combine that power with Huawei's optimisations on the phone, this is one of the fastest Android devices around. The phone runs EMUI 5.1, Huawei's own Android interface based on Android 7.0. Huawei's iOS look alike interface is not going to be everyone's cup of tea, but it's decent for the most part since I can always change the icons or the launcher. Some parts of the interface still looks alittle out of place compared to other Android apps that follows Google's design guidelines,but for the most part, it's tolerable.
On the bright side, I think Huawei has nailed the performance aspect of the interface, so it's still quite enjoyable to use all things considered.Now they just have to work on the design,and make things look a little bit more cohesive in the Android ecosystem. EMUI does bring some pretty useful features too; like locking apps to prevent unauthorised access to important information, and duplicating apps in case I need to run 2 different whatsapp accounts on the same phone.
Since the phone does have dual SIM capabilities if you don't need to expand the storage. It supports knuckle gestures too like older Huawei devices, but it requires two hands to use the feature, so it's not exactly that convenient. It also has one of the most detailed battery usage data I've seen out of the box, and a lot of really granular controls over apps' battery usage. Which is kind of nice to have if you want to extract the most out of the 3,200mAh battery in the P10. But even without messing too much with the sesettings, I was able to get a through a full day of use pretty easily.
And if I need a quick top-up throughout the day, the P10 supports Huawei's Super Charge technology which gave me about 30% charge in just 20 minutes.
On the back, we have a pair of Leica branded cameras. A 12MP colour sensor at f/2.2 aperture with optical image stabilisation, and a 20MP monochrome sensor with f/2.2 aperture that complements the main camera.
This implementation allows for features like the wide aperture mode which allows the adjustment of background blur effect, a new portrait mode which is basically like wide aperture mode just with additional filters, and better quality digital zoom. The images are pretty good looking most of the time with decent colour reproduction and dynamic range. In low light, the only thing to note is that you have to hold the camera steady after taking the shot. If not the images are more prone to having camera shake. Do as you're told by the camera app, and the images will turn out just fine. There is an easily accessible pro mode, but I think it's just too much work to be worth the effort considering the limitations of a smartphone camera.
For selfie lovers, the 8MP front camera is now Leica branded too. It produces some pretty decent results in daylight, but in low light, the camera is pretty prone to camera shake. Overall, I would still say the camera experience on the Huawei P10 is a really solid one. It's not quite at the level that the Google Pixel or Galaxy S7 is at, but it's not that far behind.
Furthermore, the monochrome mode is actually quite fun to play around with. If there's one thing that stood out to me on the Huawei P10, it's Huawei's engineering. This is a phone that is just 7mm thick, with no camera hump despite having 2 camera sensors and optical image stabilisation. It even packs in a 3,200mAh battery, and a3.5mm headset jack.
I do wished that there were stereo speakers,smaller bezels, and water resistance on the phone. But the phone is priced well enough in Singapore,that I think Huawei can probably get away with it. Huawei is even offering 2 years warranty on the phone with some additional perks like screen crack replacement within the first3 months, door to door delivery, and repairs within 3 days. It may not be the most groundbreaking phone around by any means, but the Huawei P10 gets most of the basics right. If you prefer a smaller screen device, and factor in the price of the P10, I think it is definitely a phone that is worth considering.
CHECK OUT IN LAZADA PH ==>> http:www.Lazada.com.ph/Huawei P10